[one-half-first]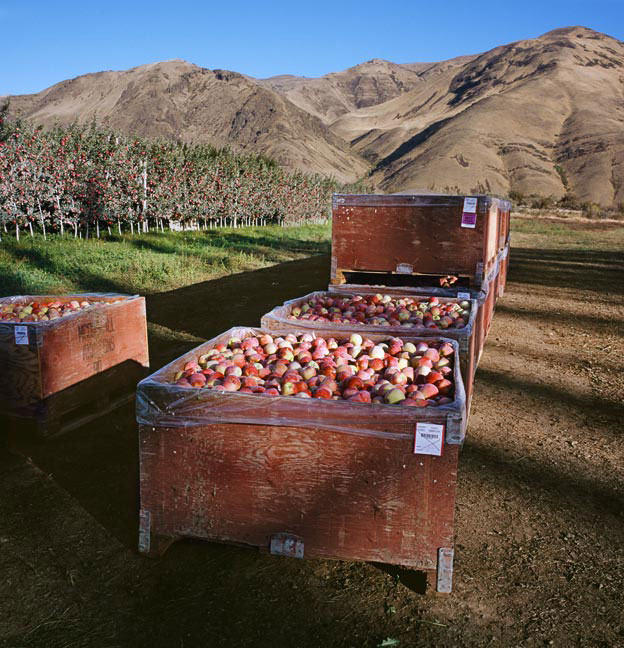 Visit the Harmony Orchards website for more information about all of our fruit!
[/one-half-first][one-half]
Craig and Sharon Campbell's Harmony Orchards are steeped in a rich history of growing the finest apples and tree fruit from the Yakima Valley of Washington state.  For three generations, the Campbell family has been working the fertile land above the Tieton and Naches rivers. The sun, long days and cool nights produce some of the most exceptional tasting apples to be found any where in the world.
Growing this fruit takes more than just good soil, water and sunny days. It takes dedication, continual learning, innovative technologies, hands-on care of the trees and above all, passion.
It's this love and passion for the fruit they grow that lead Craig and Sharon to branch out into the cider making business. But cider apples are not the same as a good eating apple so 2 acres of orchard land was dedicated to growing and experimenting with 25 varieties of heirloom and bitter sweet-sharp cider apple varieties. From those 25 varieties, 10 were selected that matched the climate and growing season in the  valley. Today Craig has adopted the latest trellising methods to shape the trees for more production and labor efficiency.
Throughout the seasons, the cider trees are cared for by human hands. Trees cannot just be planted and watered. Careful grafting to create trees, trellising and pruning to mold tree shape are all done by hand. It's this process and direct human connection that helps ensure that the apples used from the Tieton Cider Works farms, produce high quality apples and ultimately the best tasting craft cider.
From the early beginnings of just a few acres, Tieton Cider Works farms have grown to be the largest cider apple farm on the Washington state. They look forward to continued growth and expansion as the demand for Tieton Cider Works ciders increase.
[/one-half]