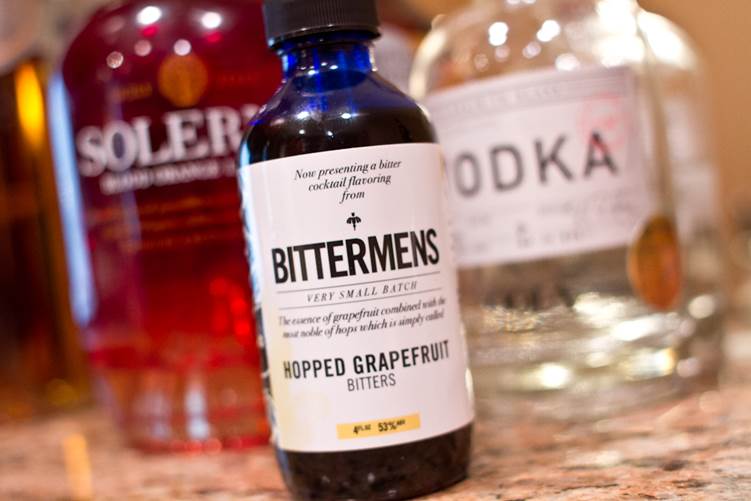 by Chris Lehault
Cider makes for an excellent cocktail ingredient. It lightens drinks while adding both depth and character. Perfect for highballs, coolers, and even fluted drinks, the cider's diversity as a cocktail mixer makes it one of the most overlooked ingredients behind the bar today. For these recipes I want to stay close to the cocktail tradition but also create drinks that reflected Washington's revival of small-batch distilling. Each recipe is a variation on a classic.
The combination of apricot and thyme is one of favorites. At New York's The Spotted Pig you can get a fantastic cocktail called the Apricot Rhyme that combines thyme-infused simple syrup with apricotinfused rye. But who has time to plan their cocktails ahead of time like that? This is is a punchy highball where luscious apricot notes, spicy ginger liqueur, and a whisper of citrus all elevate Tieton's Apricot Cider. Is it faithful to the Rhyme? Not at all. Is it delicious? Absolutely.
2 oz Oola Vodka
1.5oz Rothman & Winter Orchard Apricot Liqueur
1 oz Canton Ginger Liqueur
1 oz lime juice
4 oz Tieton Apricot
1 dash Bitterman's hopped grapefruit bitters (sub Orange bitters)
Garnish with a sprig of thyme Instructions: Shake the gin, liqueurs, lime juice, and bitters in a chilled cocktails shaker with ice. Strain into a highball glass and top with Tieton Apricot Cider.
Gently stir to combine and garnish with a sprig of thyme.